Acne Studios Headquarters, Floragatan 13, Stockholm
"On my first visit to the Floragatan 13 building, with Johannes Svartholm, I was immediately struck by the raw power of Jan Bocan's brutalist architecture.
With the interplay of volumes, the relationships between proportions, and the visual vibrations resulting from the various treatments of the concrete surface, I felt that the building emitted very low frequency waves.
The pulsations were like questions, questions that led me to a state of complete exploration. Following much research and experimentation, I finally chose to use aluminium, glass and extremely pure white light, creating a dialogue with what had been done with the concrete. Combining these materials naturally led to the design of forms and functions.
We created 23 different lights divided into 5 main families, "Magnet", "Clocks", "Jalousy", " Butterfly" and "Pink Bulb".
Each of which was designed for a particular purpose. Each design had to be tailor made, often using the kind of specific knowledge and skills held only by true craftsmen. Repoussage, machining, brushed metal, satin finishes, glass-blowing, electronics, optics, assembly - the different stages of production were all conducted in France or Switzerland and every detail was closely monitored.
The connecting thread between all these families is the extremely high quality of the white light they produce. The aim of this approach was to reveal, in exactly the same way and in every part of the building, the rich nuances of the colours, textures and materials used.
20 little "Pink Lamps" that echo the bell-jar lights are to be found here and there on the various floors of the building. It's as if the Acne Studios spirit were to have found expression in the form of shards of pink light."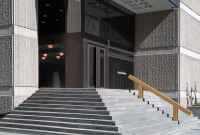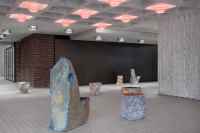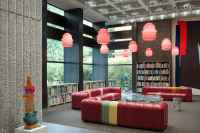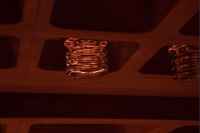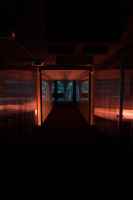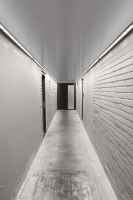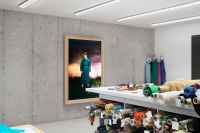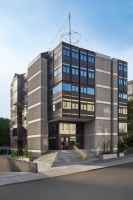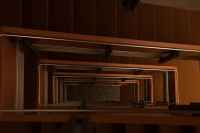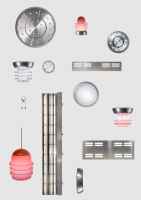 © Acne Studios, Studio Benoit Lalloz